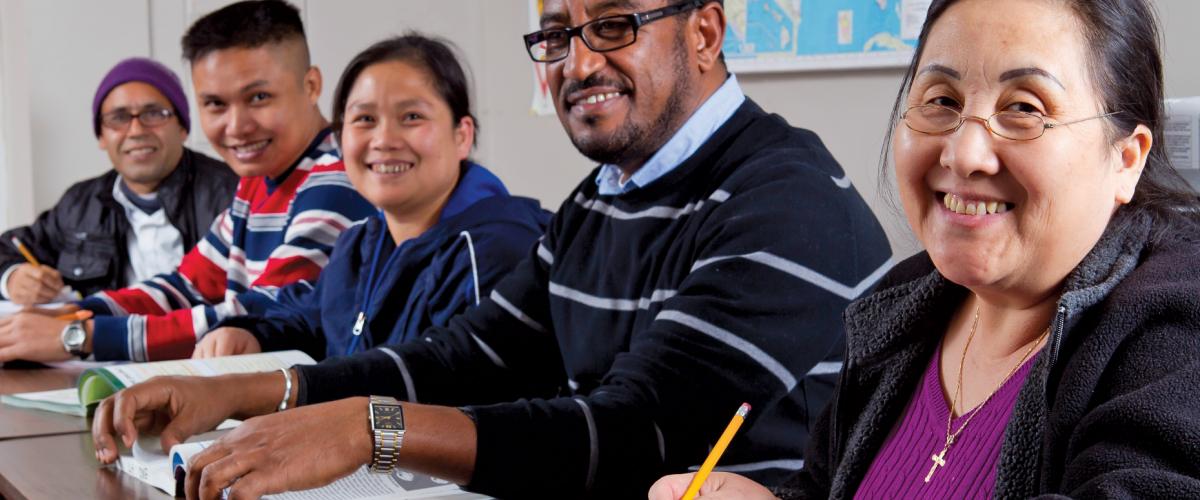 A Partnership Responding to Community Needs
SPCLC is a community-based collaborative, building literacy in a collaborative, inclusive, comprehensive manner. Membership includes community based non-profits, St. Paul Public Schools Adult Basic Education, and the St. Paul Public Library. Funded through the public and private sectors, SPCLC works collaboratively and cross-culturally to benefit adults and their families needing literacy services.
Serving a Community in Transition
St. Paul, Minnesota, is a community of over 300,000 residents in the Twin Cities Metropolitan Area. Over the past 40+ years, the city has become a resettlement destination for refugees and immigrants from around the world. As many as 75,000 Hmong from Southeast Asia live in and around the city. Many Vietnamese, Cambodians, Laotians, and others also call the city home.
In recent years, many refugees have arrived from Somalia, Ethiopia, and other parts of Africa. Latinos have emmigrated from other parts of the U.S. and foreign countries. In 2005-2006, several thousand Hmong who had lived for many years on the grounds of Wat Tham Krabok in Thailand arrived in St. Paul. Significant numbers of Karen refugees from Thai refugee camps continue to arrive, as well as Karenni and Bhutanese. The internationally known Center for Victims of Torture draws additional refugees.
New Americans contribute greatly to the cultural, economic, and artistic life of Saint Paul. They also bring many needs related to learning English, obtaining employment, and accessing basic human services.
Many lifelong St. Paul residents lack basic skills. Some dropped out of high school, or graduated without important skills and knowledge. Many are caught in a cycle of poverty as they move between low-wage jobs and unemployment. Facilitating effective processes to help individuals master basic and job skills, and gain meaningful employment, is crucial.
Service Accomplishments and Effectiveness
Last year, SPCLC served 10,701 learners, and provided 1,127,705 hours of service. Of these, 71% studied English as a Second Language, 23% Adult Basic Education, and 6% Adult Secondary Education.
Quality Assurance
SPCLC is committed to continuously improving service quality. The Accountability and Quality Assurance Team includes an Instructional Support Consultant, a Quality Assurance Advisor, an Equity in Mentoring VISTA, and the SPCLC Facilitator.
The Team works intensively with each member agency to monitor and improve service delivery. Members are supported in refining processes for assessing and monitoring student progress, identifying and sharing Best Practices for ABE, conducting site visits, developing career pathways and other creative programming, and otherwise assisting members to provide high quality services.
Images: Cochrane/FreeDigital Photos.net, watcharukun/FreeDigitalPhotos.net